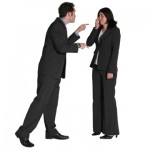 Businesses spend a lot of time and money promoting their brand so that it is perceived favorably. But many of them don't monitor what's being said about them online, and online negative comments could easily damage their brand. The interactive nature of the web today makes it easy to post comments about a business or its products. The can be done through numerous complaint sites, blogs, local search sites such as Google and Yahoo Local, and social media sites such as Facebook and Twitter. While we can't keep people from posting negative comments about a business or its products, we can minimize the impact.
The first step is active monitoring. This will allow you to deal with the problem quickly. If you find a disgruntled customer six months after an online comment is posted, there's little you can do. Reacting quickly gives you the highest probability of resolving the problem and minimizing negative exposure. Here are a few sites that can tell you quickly if a comment has been posted online about your company or product:
Google Alerts – google.com/alerts
Yahoo Alerts – alerts.yahoo.com
TweetBeep – tweetbeep.com
Once a negative commend is found, first evaluate the comment or post. If it's accurate, this might point to an internal problem that you need to correct. You might be able to satisfy the customer if you act quickly, and get them to remove the comment. If not, you can at least respond online, so that readers will understand your side of the story, or that you tried to satisfy the customer.
If the comment appears in the search results for your company or product name and you really want it removed, you can hire someone experienced in search engine optimization to push the result off the first page. Basically, this is done by obtaining 10 or more search results for your company or product that rank ahead of the negative comment. This work is complex and can be expensive, which is why we list it as a last option.
Remember though, some negative postings are natural. Nobody makes everyone happy, and people seeing a negative comment among many positive ones probably won't think twice about it.