We've been told that in order to get more traffic to small and medium-sized business websites, it's important to blog anywhere from one to four times a week.
According to Quoracreative, there are 850 million blog posts published on the internet per month and 10 billion posts per year!
As far as quantity is concerned, I think we've got it covered that we're all publishing plenty of blogs. But what about the quality of these blogs? How can we be sure that the blogs we're publishing are actually informative and unique rather than just a bunch of repetitive and easily-overlooked information?
Quoracreative also claims that "Less than 20% of the companies strive to produce content longer than 800 words. This clearly indicates a very huge gap to exploit those who are willing to provide meaningful content to improve traffic and rankings," and "The average word count of a top-ranked post in Google is between 1,140-1285 words"
Most importantly, the site surmises that "longer, in-depth, long-form content can generate 10 times more leads than shorter content."
We have to agree.
Do you ever wonder how so many small business websites are increasing their number of pages so quickly? Unless they have a writing team that is dedicated to researching and writing on topics on a regular basis, chances are they're putting out basic content for the SOLE person of ranking and NOT to inform or delight their site visitors.
On the other hand, social media requires a significantly higher number of posts a week. Volusion claims that the number of posts per day per platform is:
Facebook: Post 1-2 times per day.
Twitter: Post 5-10 times a day.
Pinterest: Post 5-30 pins a day.
LinkedIn: Post 20 times per month,
Instagram: Post 1-2 times per day.
Regular posting, regardless of how informative the content is, can and will increase your website traffic. Between utilizing powerful and effective keywords, content that keeps the readers engaged and the ever-increasing number of visitors coming to your site, Google will determine that your site is trustworthy (as long as you're following Google's Best Practices, of course) and will rank your site higher with relevant search terms.
Up to this point, we've covered some facts about the sheer number of posts that are published world-wide weekly and even monthly, and how these posts can help traffic. So what do we do with this information?
So, you find yourself cranking out blog after blog. But you're not getting leads. You also notice your bounce rate isn't improving. Your domain authority isn't changing. Wonder why?
Because your content severely lacks quality.
Websites visitors love quality – meaning, you can bet your butt that your website visitors are seeking information that will engage them, satisfy their curiosity, offer them NEW information and give them a reason to come back.
Despite what we may believe to be true due to our overuse and dependence of the digital world, humans have an inherently long attention span (though over time we can severely handicap it if we only look to things and information that will engage us in 10 seconds or less), ESPECIALLY if you capture it well. Videos are an amazing way to prove that our attention spans are wonderfully-held with the right content. Just look up any popular YouTube lecture that lasts an hour or more and you'll see people engaging at surprising rates.
That being said, we shouldn't stray from longer content within our blogs just because they take longer to write and it takes more time for our readers to finish. It isn't always true that information needs to be squeezed in shorter blogs in order to capture your visitors' attention. Give your visitors more credit than that!
Publishing well-written and well-structured content that provides information that both supports our business models and offers [hopefully] new content to our readers should be our main goal.
How do you move from the quantity-driven mindset to quality-driven? It takes strategy. You need to sit down and crunch some numbers.
Look at which of your site's pages have gotten more unique visits over the last month, three months and six months.
Determine the patterns throughout these pages.

Were your headlines stronger, clearer and containing your keywords?
Did the information you provide offer more insight and data?
Did the blog tell a story?
Was it unique?
Did you spend more time creating these blogs?
Did you promote these blogs via social media or backlinking?
Once you determine which blogs performed better and why it's time to make a plan.
Neil Patel says to be data-driven. Patel suggests looking further into each page and looking at the queries that brought traffic to the page in order to add more information to your posts. What were people looking for? How can you answer their questions better?
Search Engine Journal suggests standing out from the crowd by applying your own unique experiences to your data. In other words, support your data with personal experiences that prove the details in one way or another.
With this in mind, we say use data to expound upon your knowledge of your topics and use experiences to tell a story and stop 🛑 using blogs to pressure your visitors to buy your products or use your services.
Of course, we know that blogs help increase your business, so it's imperative to mention your product and services somewhere in your blogs. But you can't forget your sales funnel! The absolute tip-top number one position in the sales funnel is awareness – grabbing your visitor's attention and offering them the information they didn't know before.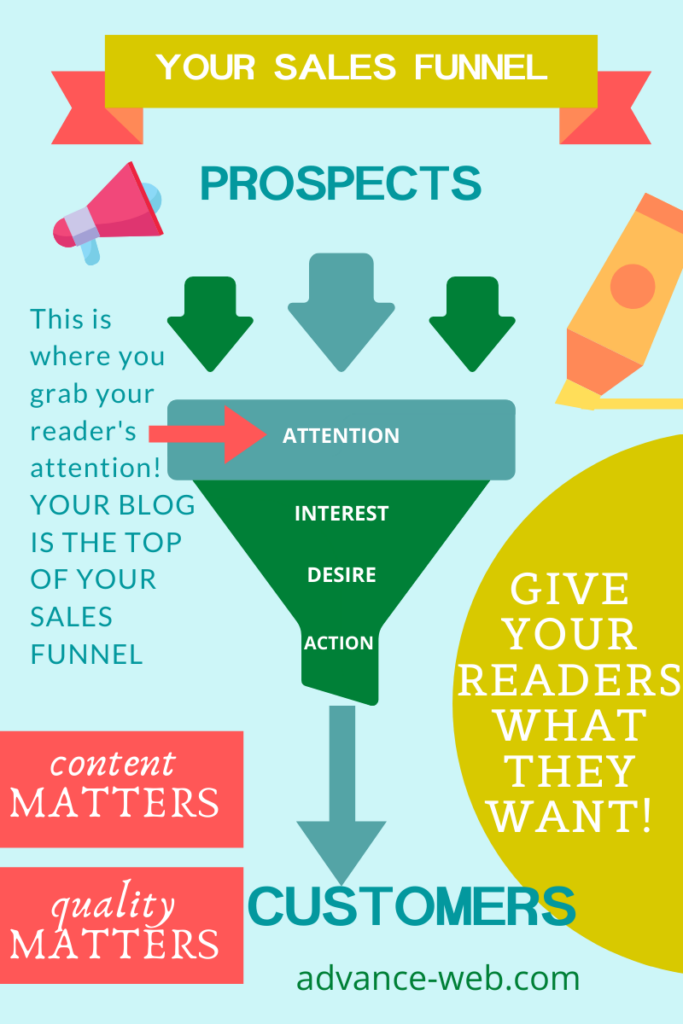 That means that your goal should be to engage and satisfy your visitor's questions through the awareness phase. Use your blogs to inform and wow your visitors, not to overuse sales pitches.
Hubspot put together a list of words that come across as too salesly – the top five being:
Guaranteed
Pitch
Cheap
Once-in-a-lifetime opportunity
Innovative
We suggest using this list of salesy terms and avoid using them within your blogs, as well.
Lastly, make certain that you know what you're talking about. With plenty of research (and links to show you've done your research!), you're bound to learn more about your blog topic. With your well-structured blog, keywords, links, data, stories and delightful images, you're definitely going to keep your readers engaged and coming back for more.