SEO Audit
Website Analysis – SEO Audit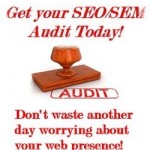 Is your internet marketing not bringing in all the traffic, conversions and revenue that you expect?  Have you been paying someone to handle this aspect of your business without knowing what they are actually doing or how it will impact your business?  Are you unsure whether your current SEO strategy is as effective as it could be?  An Advance Web audit of all SEO/SEM activities for your business will identify correctable issues that may be adversely affecting your search engine marketing results.

What We Do
Advance Web Promotions has provided measurable results in search engine optimization/search engine marketing services since 2001.  Our search engine marketing audit identifies areas that may be hurting or holding back your business and can also reveal untapped opportunities that can improve your results and ROI.  Our audit process is an in-depth analysis and includes the following:
Keyword analysis for your business which will:

Determine if you are targeting the correct keywords – For the most part, people arrive at a site through a variety of keywords, and it would be a mistake to optimize only for a narrow keyword target.  Keywords are what drive traffic to your website for free through organic internet search engines.  If your pages are optimized for keyword x and most users are searching for keyword y they will not see your website in the search results. Selecting the right keywords ensures that you are targeting the right audience for your specific products and services, and increases your visibility in search engine results.
Research for any additional keywords that may have been overlooked and have the potential to drive additional customers to your site.
Analyze your pages to ensure they are optimized effectively.

Technical analysis of your website – we use an extensive inspection checklist to find problem areas including:

Missing tags (images, links, title, meta description, etc).  These tags help communicate the contents on each page to the search engines.
Duplicate titles. Each page title should communicate the contents of the page.  Page titles are a very important search engine ranking factor.
Duplicate content.  Pages with the same content can lower your search engine rankings.
Load speed issues (CSS, Javascript, large images, etc).  Excessive use of javascripts and CSS files can slow down your site's load time.  Many times these elements can be loaded after the page begins loading or combined in a single file for quicker loading.  It is important that a webpage begin loading
quickly so that users do not leave.

Redirect and 404 errors.  These problems can lead visitors to non-existent pages, and are an indication of a poorly designed or maintained site.  This is a common problem if a website has gone through a redesign.
Navigation problems. Image and javascript links can't be read by search engines, and high value pages that are multiple clicks away from the Home page are often not properly indexed by search engines. The ideal navigational structure is typically one that is utilizes text links, and places high value pages no more than 2-3 clicks away from the Home page.
Detailed analysis of your backlink profile (links to your website) to:

Determine your overall backlink profile status
Determine if there are toxic issues with backlinks
Analyze your top three competitors' backlinks for opportunities to add more links to your site.
Quality links to your website are crucial in order for it to rank high in search engine results. 
What You Receive with Your SEO Audit
Upon completion of our audit (normally 2-3 weeks) you will be provided a written report which will provide the details of all of our findings.  We will also schedule a 30 minute call with you to review the report and answer any questions you may have.
You may use the information we provide in any way you wish.  You can make the recommended corrections yourself, hire another company to implement them or let us make the changes for you.

Cost:  $950
Or call us at 817-545-1188 to learn more.
Why Choose Advance Web Promotions
Advance Web Promotions has over 12 years of experience in the search engine marketing business.  We can provide references on request to assist you in making your decision. We are a small company, focused strictly on search engine marketing. We do not offer web development or general online media services.