One way a company showcases its expertise is through content creation. Content is the source of knowledge and, whether you believe it or not, your next customers. It doesn't matter if your company is physical or virtual, your website is the pinnacle of your online presence. If your site visitors aren't getting what they're looking for on your website, it's sayonara. I guess you could say, if you're not publishing original and new content on a regular basis, you're risking falling further and further behind your competition.
So how do you publish content that your site visitors will find in search engine results and love?
Know What Keywords You Want To Target, But Don't Overuse Them
A lot of clients understand the importance of content, and so will pump out content, but it won't be relevant to their line of work, nor will it contain any relevant keywords. This is what I call "bad content" – you have content but it doesn't bring your desired visitors. Your keywords need to be absolutely relevant to your services. After all, relevant keywords are what rank you in search engines so visitors can easily find you!
Additionally, understand that your site visitors don't get to your site by using just one keyword. If you have a cleaning service, your visitors won't just search for "cleaning service." Perhaps they'll search for "maid services" or "house cleaning." Knowing this, loosen your grip a bit on the one keyword you're trying to target and use synonyms, or spread the keywords out throughout your page in your titles, headers, body and images. But don't overuse them!
Unfortunately, there are some who still use old tactics like keyword stuffing. This is where you literally "stuff" your keywords on your page in order to try to manipulate the search engines into ranking your page higher for particular search terms. Google's best practices defines it as:
"The practice of loading a webpage with keywords or numbers in an attempt to manipulate a site's ranking in Google search results.
Lists of phone numbers without substantial added value

Blocks of text listing cities and states a webpage is trying to rank for

Repeating the same words or phrases so often that it sounds unnatural, for example:

We sell custom cigar humidors. Our custom cigar humidors are handmade. If you're thinking of buying a custom cigar humidor, please contact our custom cigar humidor specialists at custom.cigar.humidors@example.com."
In order to avoid keyword stuffing, the best thing to do is to write naturally. If you're looking for more opportunities to include your keywords as much as possible, you might be keyword stuffing. Follow these guidelines to avoid keyword stuffing.
Know What Search Queries Are Bringing Your Visitors
There are several ways to determine what search terms are bringing visitors organically to your site. However, an easy way to determine what search queries are bringing visitors to your site is to look in your Google Analytics. Once you log in, you'll be on your dashboard. From there, go to Acquisition > Search Console > Queries.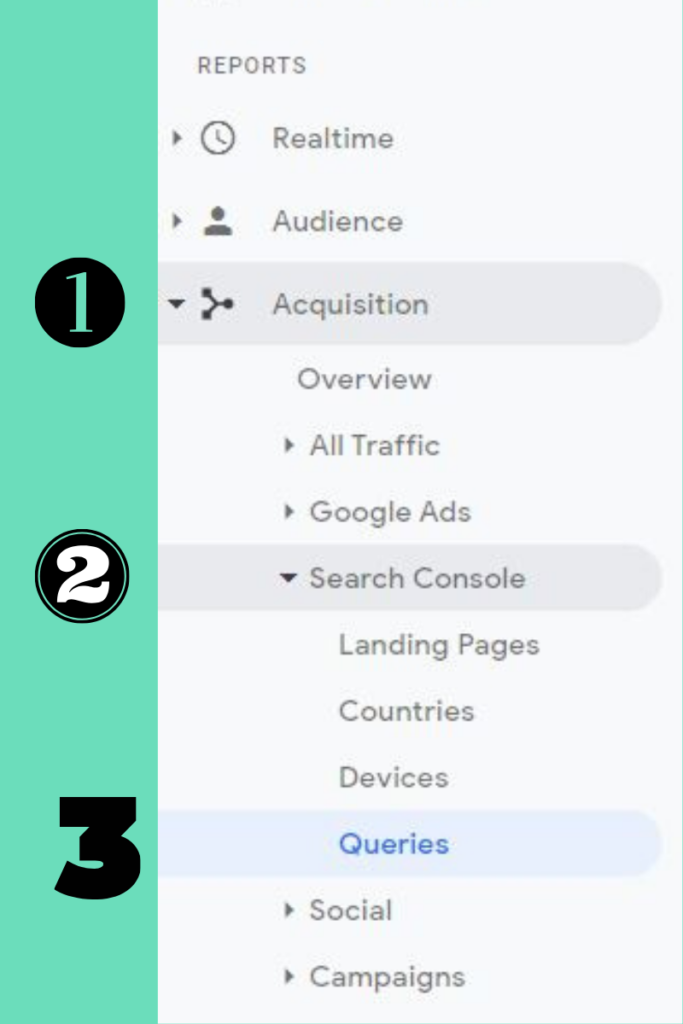 From here, you'll see a list of search queries that brought visitors to your site.
If the search queries aren't matching your targeted keywords, it's time to edit those blogs!
Curate Content To Both Showcase Your Knowledge And Appeal To Your Visitors' Needs
Oftentimes, when you have a high amount of visitors on your site who aren't converting, it's because your content doesn't lead the potential customer to believe you can solve their problems, or it's because your content isn't unique enough. Your site visitors must feel an attraction to your site's content before a relationship can begin. Period.
Having a full understanding of why your visitors are on your site will help you understand what converts leads into customers.
What service do you offer?
Does your service appeal to your site visitors?
If so, what information can you provide about your visitor's problems?
Are you understanding of your visitor's problems?
Can they trust you to resolve their problems?
Your site visitors need to be able to answer every one of these questions after reading your content.
When your content answers these questions for your visitors, chances are they'll come back again and again, and you're going to convert them into leads, and then into customers.