You've just finished writing that great article that will answer a question everyone has on their lips or solve that problem half the population is dealing with.  You've created a stimulating photo album of a recent event and now you want to get it out there for all the world to see.  You have lots of fans and followers but want to ensure that it reaches the greatest number of people and more importantly, the greatest number that are your potential customers.  So how to you make sure that it reaches the ones you want?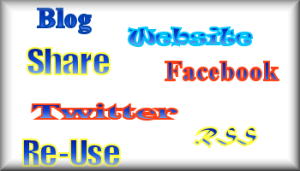 Five Easy Content Distribution Methods
Here are what I have found to be the best ways to reach the largest number of people and the greatest number of my potential customers.
Ensure that Your Content is posted on Your Property:  By this I mean initially post your content on your website or your blog.  You want to get all those readers where you can easily convert them and having them already on your website or blog makes it easier to convert them into customers.  They don't have to go from one site to another and you reap the benefit of having them engage with your site to read or see your content.  Images should also be placed in photo albums that are on your property.  Photos are one of the most viewed items and therefore you should bring visitors to your site to view them, not to some other site that will benefit from the visitors and links that may develop to those photos.  Gain the benefit for your website.  Don't be a digital sharecropper!
Re-Use Your Content: Keep in mind that not everyone read your article the first time you published it.  Feel free to distribute it again at some time in the future.  You can also repurpose great content for a different audience and use relevant links in future articles to it.
Make it Shareable:  Every article you publish, every photo album you post should include sharing buttons to make it easy for readers and viewers to pass it along to others.  Get your own people to share it too!  You want it shared first from your platform rather than from a social media platform so ensure it has prominent buttons and don't be afraid to ask for a share.
Use all the Social Media Platforms you are On:  This should be self-explanatory.  Distribute your content over all the social media platforms you are using.  Facebook and Twitter are immediate choices and should include at least one photo with the post and a short snippet with a link to the article or photo album.
Use Email:  Although the major focus these days seem to be on social media, email is still an effective means of distributing content.  A simple description of the article with a link to it makes it easy for your contact to view your content.  A recent report by eMarketer indicated that there are approximately 1.73 billion social network users while The Radicate Group reported their findings that there are approximately 3.3 billion email users.  This means that you could possibly reach twice the number of user by email than you could reach by social media!  If your business has been collecting email addresses of past and potential customers this is the easiest way to get the content to them.
Writing the greatest content is only half the job; you need to get it distributed to the most readers possible.  There are other means of distribution however these are those that I consider to be the easiest to manage and get your content out so give them a try!  Keep your eyes on the future as new means of content distribution are popping up each year and one of the new ones may be just what you need.