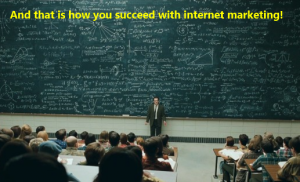 If you are in the SEO/SEM/SMM business I certain that you have had many clients that are constantly asking you to:  "Get me on page one of Google search results, get me more visitors, get me more conversions and increase my sales".
We have all encountered many of these clients and they just don't seem to understand that their involvement in the process is what will ultimately determine its success or failure, not the work you will be doing.  Yes, you can certainly clean up errors on their website, help optimize pages better and clean up their backlink profile.  You can make sure they are on local listings, get their Google maps placements all correct and make sure they have sitemaps submitted to search engines.  All of this is necessary work but will it achieve their long term business goals without their participation?  The answer is a NO!  For there to be any long term success they must be actively involved in the process.
I recently began work with a new client that has been a real joy.  From the first day I was met with all major department heads to discuss their goals, where they currently were and how we recommended to get to where they wanted to be.  We were able to hold several planning meeting prior to taking on any of the needed tasks.  They seemed to be enthusiastic about the possibilities and were agreeable to their participation.  From the outset they were actively involved in areas such as keyword identification, helping to develop new content for their website, assigning specific KPIs to track and the associated reports they wished to receive, establishing and providing blog posts and social media content.  They were open to any suggestions, however they were not hesitant in questioning them to educate themselves on the process.  They were open to learning about tools available to help automate some of the processes and explore new avenues that they had previously not been aware of to distribute their content. 
For me it was a pleasure to work with a client the "Gets It" and the results we have seen within just three months are tremendous.  I can only take a small credit for what has resulted from our efforts since they themselves have done the bulk of work while I was only able to give direction.  If you are still having to deal with clients that "Don't Get It" then you need to spend more time up front explaining to them that for your work to succeed it must be a collaboration between the two of you.  They must be willing to do their part or they will never achieve the long term goals they hope for!